Portfolio of Works
The original paintings in this collection are watercolor on hand textured canvas or Yupo (see About V Rae for detail). The museum quality canvas giclee prints are limited edition. The 12x18 paper prints are open edition.
CONTINENTAL U.S. HAWAII CANADA For PayPal or direct contact orders (I can process a credit card over the phone) the canvas Giclee prints are signed, numbered, uv sealed, rolled and shipped free for local stretching. The Studio tab has photographs that show how the 2" gallery wrap appear stretched and hung. Most frame shops will stretch the canvas for $75 to $200, depending on size, which is safer and less costly than shipping the stretched piece from Alaska. Expect 1 to 2 weeks for delivery.
ALASKA - For PayPal or direct contact orders the canvas giclee are stretched, ready-to-hang and may be picked up at the studio, or shipped at cost. Expect 1 to 2 weeks for pick up or shipping.
INTERNATIONAL ORDERS WELCOME - CONTACT V RAE FOR SHIPPING QUOTES
CUSTOM SIZE - Standard size and prices are listed with each image, but I can produce the canvas Giclee to fit custom space preferences up to 53" on the short side and 96"(or more) on the long side.
PAPER PRINTS - The FF&F collection are also available on 12x18 (12x12 for square images) synthetic fine art paper, rolled and shipped in a protective tube, for $59.
CLICK THE IMAGES BELOW TO ENLARGE AND FOR DESCRIPTIVE INFORMATION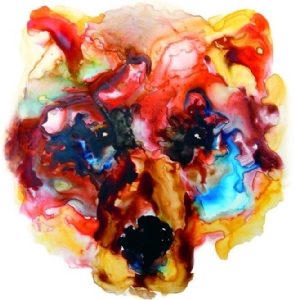 ---
NEW MEDIUM FOR PRESERVING FINE ART
The infused metal process represents a new art medium for preserving fine art by infusing archive quality dyes into a proprietary coated aluminum surface. Because the image is infused into and not onto the coating, the prints have archival value and durability. The archival value of a print should be judged not only by its resistance to degradation by U.V. light and ozone, but also moisture and surface tenacity. Metal infused prints are waterproof, scratch resistant and, when displayed out of direct sunlight, can be hung in or outdoors.
RESULT
The colors in an infused metal print are extraordinarily vibrant and the depth of the coating provides a luminous quality unlike other substrate.
PRICE
All of the Fur, Fin & Feather collection can be printed on metal. The cost is roughly one third higher than the canvas giclee. Call or e-mail for exact price quotes per size.
---
Fur, Fin & Feathers collection 8.5"x8.5" hard bound book printed in the USA, containing high resolution images and artist statements. Select one of three covers. $59.95 Free Shipping USA/Canada
---
12x18 PET PORTRAIT PRINTS - The first thirty pet portraits are available on synthetic fine art paper, rolled and shipped in a protective tube for $59. They can also be printed as museum quality canvas giclee in sizes ranging from 15" to 53". Call or contact for prices on custom canvas giclee pet portraits.
ORIGINAL PET PORTRAITS - I am taking pet portrait commissions again! Capturing character and expression is my goal, so I like to meet the pet(s) if I can, or hear about their personality. I then need a picture of "the look" that warms your heart. I will work from the photo and try to capture the essence of personality. I love to paint away and suddenly have it look back at me. In case you haven't figured it out yet, I love what I do and those I get to meet no matter how many legs they have!!!
I am sorry to say that the wait for a pet portrait is still running about 18 months, give or take. So I am just taking 1/2 down to get on the list then when I am ready to start I'll collect the rest. My prices start at $1000 per pet for an approximate size of 11x14 or 11x11 or 12x12 depending on which style of mine you like. Larger is more of course. We will talk over style, color, size and whatever else you had in mind. Getting a stretched canvas giclee' print of the original for additional locations is an option as well. The UV protection on the giclees allows them to be hung in lighted areas much better than on original painting.
So when you are ready to get on the list just give me a call at 907-244-3080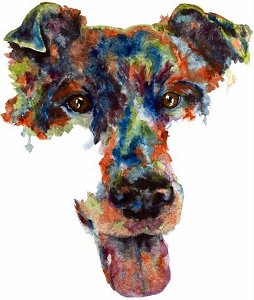 ---