About the Artist
V Rae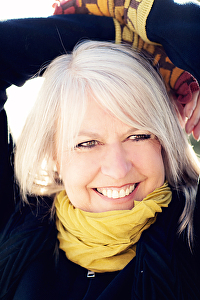 BIOGRAPHY

Whether sailing Alaska coastal waters, snorkeling Hawaii shores or trekking global wonders, V Rae chronicles natural life through bold expressions that leap from the canvas to your heart. Employing a startling fusion of watercolor and negative space, V transports each encounter through time and space, sharing with the world her seamless blend of art, nature and individual personality.

V resides in Anchorage, Alaska and paints from a studio frequented by many of her models. She is Artist in Residence at the Alaska SeaLife Center and Alaska Zoo. Her popularity extends outside of Alaska where a rapidly growing body of V Rae Creative Expressions are featured in Zoo, Aquarium, National Park gift shops and galleries across the Continental U.S. Each year a portion of V's work is dedicated to Alaska wildlife preservation efforts that protect and sustain the natural tension between subsistence and conservation unique to Alaska.

GREETING
Thank you so much for visiting my website. People frequently ask how I arrive at the style and color in my paintings. The short answer is, I paint what I see. Why I see what I see is a more complicated question, but I don't spend much time on that side of my brain. In a sense, my mind operates like a thermal imaging camera. I see the spirit of living things in variations on color and find watercolor the most accurate medium to capture the impression. But the application is somewhat unconventional.
I generally paint on canvas with hand-sculpt paper overlay or Yupo (a synthetic fine art paper). The hand sculpted paper surface on canvas provides a textured base that adds dimension and body to the watercolor application, enhancing the three dimension illusion of two dimensional paintings. Another illusory emphasis in my work is the use of negative (white) space. I love negative space. The notion that nothing becomes something only the brain can untangle tickles my conundrum bone.
My more abstract work is direct application of water based pigment on Yupo, a slippery surface that wrestles for control and teases the senses. To paint on Yupo, my surface must be perfectly level in order to control the free flowing movement of watercolor over the synthetic base. The result is a deep, rich, more translucent color than conventional watercolor applications. But there's a downside: If I forget and lift the painting prematurely I end up paper-in-hand, portrait-on-floor. Painting on Yupo reminds me of that old Simon and Garfunkel tune Slip Slid'n Away.
Enjoy!
V